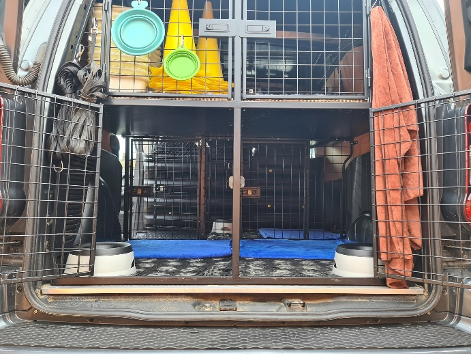 Transport
A professional dog walker should, at the very least, have ensured that dogs are secure in their vehicles. This is not just a requirement for dog walkers as professionals, but a legal requirement for anyone transporting animals. A van with professionally fitted crates is ideal – this ensures your dog is safe during transit and has their own space away from the other dogs in the vehicle. This is vital, as the dog walker cannot be monitoring the dogs while driving and would not be able to act quickly to intervene should there be any problems.
Social Media/Website
Any professional should be expected to have taken the time to set up a verified social media page and/or an informative, professional-looking website. These are easy and free to do, and should answer many of your questions about the dog walker's practices, experience and qualifications. You may also be able to find testimonials and reviews on these pages. Not having an established facebook page is a red flag, as it shows a lack of transparency and continuity in their business.
Safety Precautions
Your dog walker should be able to answer any questions you have about steps they take to ensure they are keeping your dogs safe at all times. From basic welfare considerations such as offering water and keeping dogs cool/warm in extreme weather, to their pick up/drop off procedures to ensure no dogs are left unattended in their vehicle. How many dogs do they walk together at one time – be realistic about how many dogs one person could handle in an emergency.
Paperwork
Any professional dog walker should have comprehensive paperwork for you to read and sign. This should include details of your dog – any injuries, allergies, medications, vaccinations, etc. – as well as their terms and conditions. A lack of paperwork is a big red flag!
Remember – always trust your gut. If you feel uncomfortable for any reason, even if you can't quite put your finger on it, don't feel bad for not using someone's services. No professional dog walker will hold this against you – even a good dog walker might not be the right person for you and your dog.
It can take time to find the right walker for you, but doing so will be well worth it. The peace of mind knowing that your dog is being cared for by a dedicated, responsible professional is priceless