I have 3 rules for puppy's first walk
Make it fun
Don't overwhelm puppy with new sights, smells, people etc
Keep it short.

It's tempting to pack a picnic and spend the whole day exploring with your new puppy. Don't! Over exercising your puppy's body could have life changing consequences for your dog. At this stage in life, walks are about mental stimulation, not physical fitness.

A word about growth plates
Each of your puppy's leg bones has a growth plate at either end of it. These are areas of cartilage that gradually harden and turn into bone – it's how bones grow. Growth plates are vulnerable to damage and if that happens, your pup may have problems in later life. Damage can be done by too much jumping, twisting, running – and yes – excessive walking when puppy is young.

Growth stops at different ages for different breeds so talk to your vet about what age you can start increasing exercise. Some breeds will keep on growing for up to 2 years of age.

As a rough guide, puppy exercise times should be limited to 5 minutes for every month of their age up to twice a day. A 3 month old puppy could have two, 15 minute walks a day with plenty of rest in between.

Meeting other dogs
Now that your puppy is fully vaccinated he or she can (and should) meet other dogs. BUT – and this is a big BUT – you need to take care. Not all dogs have good social skills and your puppy has a lot to learn about doggy body language. A "telling off" or an attack from another dog could result in a pup that is frightened of other dogs.

Puppy needs to learn that he/she can't jump on every dog you encounter. Allow him or her to greet some, but not all dogs. A polite greeting in the dog world is simply a bit of a sniff and then move on.

It's well worth investing in some 1-2-1 puppy training sessions so that you can learn how to develop your pup's social skills.

Find out more here

Socialisation visits
I talk a lot about socialisation in my dog training classes and in my online video tutorials. And for good reason. Socialisation is all about doggy confidence. Most of the dogs and owners I help with behavioural problems are not nasty – they're nervous. Building confidence in lots of different situations is the key to a well behaved and well balanced adult dog.

Now that puppy is fully vaccinated you can and should include lots of planned positive socialisation in their lives. Visit different places. Get puppy used to cars – stationary and moving. People of all ages. Coffee shops and cafes. The pub. The street, the park, the woods, the beach. Meet dogs, cats, horses, farm animals (from the other side of the fence!). Take short car rides, longer car rides. Go to Granny's house. Visit friends.

Every visit and every encounter must be a positive experience for your puppy. They have to form the impression that life with you is awesomely great and totally safe. So take it slow.

For example. If you are on a country walk and encounter a horse whose rider is happy to chat, (imagine how big a horse must look to a puppy!), start from several paces away. Let puppy sniff the air first and approach the pony in his or her own time. If either party (puppy or horse) seems uncomfortable, walk away. You can try again another day.

Socialisation is exhausting for young doggy brains. Rather than a whirlwind of activity, it's important to let them rest in between adventures so that they can process what they've learned.

Walking nicely on the lead
In time, you will want your puppy to be able to walk confidently beside you without pulling on the lead. Puppy's first walks should be about developing confidence and satisfying their curiosity about the world but it's also important to work on loose lead walking skills while little one is still young. And that's where puppy training classes are invaluable.

Puppy training classes
Once puppy is fully vaccinated he or she can join a class with other dogs. A good puppy training class involves dogs of all ages so that puppy can practise lifeskills and social skills as well as learning how to be a good dog. It's an extension of the socialisation you are already working on.

At Best Behaviour training, puppies and adult dogs learn side by side. We cover basic training such as "sit", "stay", "settle" and loose lead walking and much more.

We run classes on different days of the week and at different times, so it's easy to fit puppy training into your life.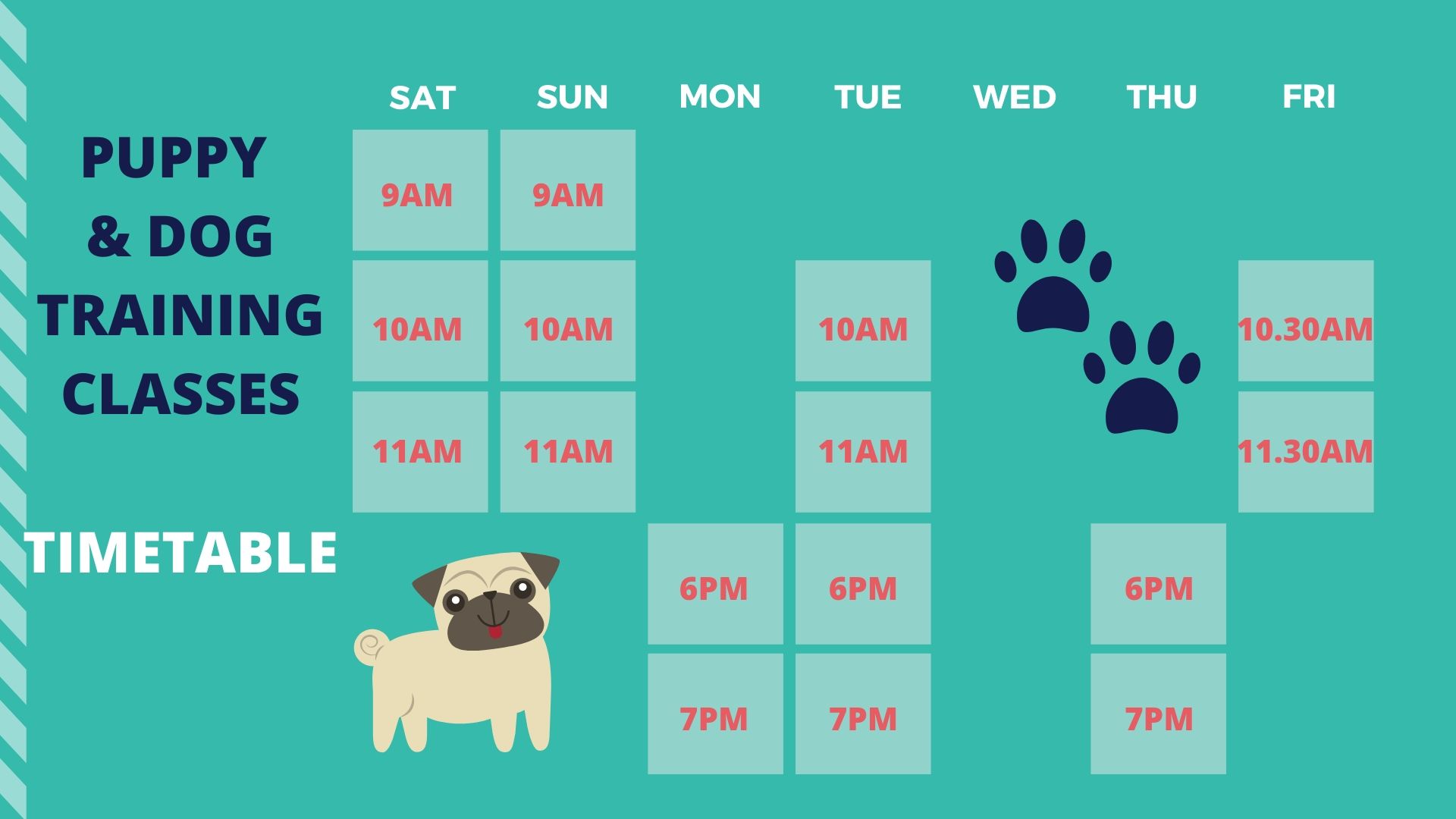 Click here to discover more about puppy training classes

More puppy related articles.

Your puppy – the first 2 weeks
Helping your new puppy to settle at home
5 reasons to enrol in puppy school